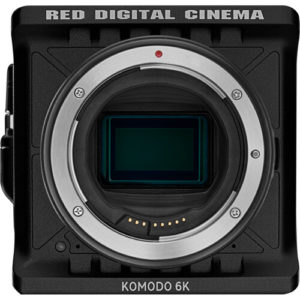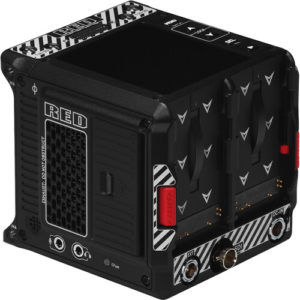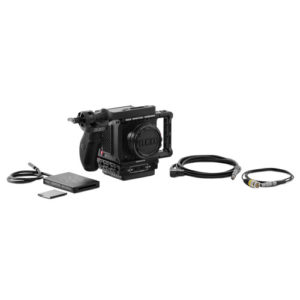 Key Features
Super35 KOMODO 6K Camera
Full-Frame 6K to 40 fps, 4K to 60 fps
Canon RF Lens & ARRI CFast 2.0 Support
Mechanical EF Mount Adapter
EF Mount Adapter with Variable ND Filter
Expander Module, Outrigger Handle
Clear Drop-In Filter for Mount Adapter
Wing Grip, 512GB Card & Card Reader
D-Tap Power Cable
Does Not Include Batteries
The KOMODO 6K Camera Production Pack without batteries from RED DIGITAL CINEMA pairs the lightweight Super35 KOMODO 6K camera with multiple key accessories. This starter pack includes an RF to EF mechanical lens mount adapter, the electronic Canon EF-EOS R Mount Adapter with Drop-In Variable ND Filter, an expander module, an outrigger handle, a clear drop-in filter, an AC power adapter, a Mini World Travel Adapter Kit, one 512GB card, a card reader, a wing grip, and a D-Tap to RED power cable.
Firmware update Beta v.1.5.0 adds support for 6K anamorphic, 4-channel audio, FTPS for remote offloading, Canon RF lens control ring support, and more. It also adds ExAscend CFast 512GB and 1TB cards to the approved media list.
RED DIGITAL CINEMA KOMODO 6K Digital Cinema Camera (Canon RF)
RED has taken fresh steps with the release of the KOMODO 6K Digital Cinema Camera by bringing their legendary image quality and color science into an ultra-compact, all-in-one design that weighs just 2.1 lb measures about 4 x 4 x 4″. Key to achieving this goal was the use of the Canon RF lens mount and the KOMODO 19.9MP Super35 CMOS sensor which boasts Global Shutter technology. This sensor can create images with 16+ stops dynamic range and eliminates rolling shutter artifacts. Users can also be certain they are getting RED quality thanks to the ability to record up to 6K at 40 fps, 5K at 48 fps, 4K at 60 fps, and 2K at 120 fps in REDCODE RAW for incredible flexibility in post-production.

Revolutionary for RED is the creation of an extremely compact all-in-one design with the KOMODO. This means you can simply pop in a CFast 2.0 card into its media slot and you are ready to roll with data rates up to 280 MB/s. A top 2.9″ 1440 x 1440 touchscreen makes it easy to configure and monitor your footage or you can use the RED Control system for using an iOS or Android device for preview and settings. This is possible through integrated 2.4/5 GHz Wi-Fi. Wired control is also possible via the USB Type-C port and optional adapters.

The use of the Canon RF lens mount allows the KOMODO to be extremely compact while still enabling compatibility with a vast range of lenses through the use of optional adapters. The mount will natively support mechanical RF lenses and mechanical EF lenses via the included adapter. Using optional electronic EF-to-RF mount adapters, the KOMODO will even support electronic Canon EF-mount lenses and unlock additional functionality, such as autofocus.

A first for RED is the ability to use Phase-Detect Autofocus (PDAF) with compatible lenses. This includes adapted Canon EF-mount lenses used with a separately available EF-to-RF adapter with electronic communication. Phase-detect systems are known for their speed by measuring and comparing distance and should provide a reliable, accurate system for video production. Additionally, the touchscreen can be used for quickly changing focus and selecting subjects.

Getting back to image quality, the KOMODO promises to be among RED's finest with the ability to capture up to 6K at 40 fps using the powerful 16-bit REDCODE RAW format. RED has simplified compression options, giving users a choice between HQ, MQ, and LQ, each varying compression from low to high, respectively. Having these choices allows users to choose the best option for each shoot and whether to prioritize data rate or image quality. REDCODE RAW is supported for 5K up to 48 fps, 4K up to 60 fps, and 2K up to 120 fps and will deliver the greatest possible flexibility in post-production. Those looking to use a more conventional format can record natively in Apple ProRes 422 HQ and standard 422 with DCI 4K up to 60 fps or DCI 2K up to 120 fps.

Being a complete all-in-one camera solution, the KOMODO features an array of necessary ports and connections. This includes integrated stereo microphones and a 3.5mm input for audio, genlock/timecode/GPIO/RS232 support via a 9-pin EXT port, and a DC power input. A 12G-SDI port will support up to DCI 4K at 60 fps in 10-bit 4:2:2 quality for dedicated monitoring solutions. The rear of the camera also sports dual Canon BP-9xx series battery slots, which can be hot-swapped for practically unlimited recording in the field.

The RED KOMODO 6K offers an exceptionally compact form factor that sacrifices nothing in terms of image quality. This base model includes the KOMODO 6K, a 45W AC power adapter, Mini World Travel Adapter Kit, and a Canon RF-to-EF mechanical adapter.
Firmware Update v.1.5.5
Fixed playback stuttering at high frame rates, German SLA causing a camera shutdown, and RFB raw metering in 6K full frame
Improved LCD sync issues in playback with anamorphic formats
Improved general stability
6K S35 Sensor
6K Super35 19.9MP CMOS sensor with a dynamic range of 16+ stops and a resolution of 6144 x 3160
Global Shutter
The KOMODO 6K's global shutter produces crisp images while reducing motion artifacts
Compact Form, Versatile Power
Weighing just over 2 lb, the KOMODO 6K's power options include using two lightweight Canon BP-9 batteries, a larger battery, or an AC power supply
CFast Recording
Capture at rates up to 280 MB/s on RED PRO or qualified third-party CFast 2.0 cards
REDCODE RAW
The robust REDCODE RAW file format offers versatility without burdensome storage requirements and editing on many NLE systems without transcoding to save time
REDCODE Options
HQ is perfect for VFX, extremely detailed scenes, and capturing stills from motion
MQ is great for cinema and high-end TV projects
LQ is ideal for TV, online content, documentaries, interviews, and long takes
Apple ProRes Formats
For proxy files or quicker turnaround times than raw files, Apple ProRes can be recorded at 4K and 2K resolutions at rates up to 120 fps (2K)
Color Management
Supports 3D LUTs and RED color science
Touchscreen Display
Integrated 2.9″ touchscreen LCD screen for video preview and camera control
RED DIGITAL CINEMA KOMODO Outrigger Handle
The KOMODO Outrigger Handle from RED DIGITAL CINEMA provides flexible handling when operating your KOMODO digital cine camera. This low-profile handle is especially suited for keeping one hand on the integrated record/stop button and the other positioned for focus pulls or zooming.
The KOMODO Outrigger handle features include a rugged build, 360° of swivel rotation for optimal positioning, and two 1/4″-20 mounting points.
RED DIGITAL CINEMA KOMODO Wing Grip
Add the Wing Grip from RED DIGITAL CINEMA to your KOMODO camera to create a low-profile, handheld support option. This aluminum handle's simple u–shaped design features an ergonomic grip and both 1/4″-20 and anti-twist 3/8″-16 threads for attaching accessories.